As more conveyor systems are being designed with increased speed and capacity the importance of pulley lagging has become more evident. Ceramic lagging is no longer seen only as a solution to slippage problems, but as a standard on drive pulleys to prevent costly maintenance and replacement of damaged pulleys.
Ceramic Lagging is one of the many lagging options provided at Luff Industries. Luff provides both options of Richwood Combi-Lagg and Combi-Grip Ceramic Lagging. The Combi-Lagg consists of an embedded tile design that has transformed the industry. The ceramic design features a dimpled or smooth ceramic, combined with SBR rubber and is available in a width of 12" and in thickness sizes of ⅝", ¾", and 1".
Combi-Grip is the premium pulley lagging rated for use on pulleys up to 475 PIW, with a width of 12 ½" and a thickness of ⅝". Ceramic lagging can fit on any size pulley providing a first-rate grip of the belt; it far surpasses the capabilities of any other lagging on the market.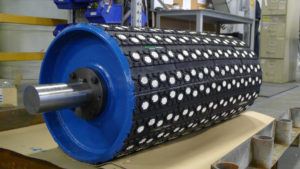 As originally mentioned, the unique design features raised oval ceramic dimples, which provide exceptional non-abrasive traction of the belt and twice the friction of standard rubber lagging. The major benefit of this material is improved belt tracking that minimizes belt slippage and reduces spillage of materials. With better belt tracking on your conveyor, the deterioration of your head pulley will be drastically reduced. As a result, you will achieve a longer lasting pulley that will maintain its integrity over time.
Ceramic lagging also sheds water and dirt at a faster rate than conventional lagging. This will reduce the wear and tear of belt scrapers, which will in turn need to be replaced less frequently; the same advantage applies to preserving the life of your belts. Additionally, ceramic lagging can be used in above ground and below ground applications to suit all of your various conveyor needs.
To further demonstrate the advantages that ceramic lagging can provide to customers, Nuway Crushing Ltd., located in the Yukon, has provided a customer testimonial below:
"Nuway Crushing Ltd. is currently using a Luff ceramic head pulley, crushing copper ore in the Yukon. We were encountering issues with the vari-speed belt slipping on our Clemro 42" head wheel. The belt was tightened up so much in order to prevent the slipping it was pulling the seams apart.
Since we installed the ceramic head wheel it has eliminated the slippage and we are able to run the belt much looser. This product has saved us a lot of down time and has extended the life of our feed belts. We have purchased more head wheels since and plan on changing all of our feeders and surge bins to the ceramic head wheels. We highly recommend this product."
As demonstrated by the testimonial from Nuway Crushing Ltd, the use of ceramic lagging will ultimately reduce your conveyor maintenance and down time, which will in turn result in cost efficiencies for your business.
Luff pulleys are backed by a two-year warranty, which showcases the belief in the durability of its product. The unique combination of Luff drum pulleys with Richwood Ceramic Lagging has produced a heavy-duty pulley that can withstand the harshest environments. Fabricated from heavy schedule pipe with a large machined trapezoidal crown angle and engineered end plates, it provides excellent belt tracking and maximum concentricity. This design is exclusive to Luff in the conveyor industry and ensures a dependable, long last pulley for your operation.