Season's Greetings! The team here at Luff Industries would like to wish our clients past, present and future, a very safe and happy holidays. We have been busy with the end of the year approaching us. Our team is looking forward to a productive and exciting 2019!
Today we would like to review our HMS or High Moisture Seal and Anti-Lock Shield. The team at Luff has over 38 years of experience and has designed and engineered a polymer disc that sits inside an end cap thus remaining stationary as the roller will rotate around it. Our HMS or High Moisture Seal and Safety Anti-Lock Shield (SAL)solution allows the roller to turn with ease. It will allow the roller to rotate freely even if there are material deposits built up around or between the roller end and the frame of the idler.
Our High Moisture Seal (HMS) and Anti-Lock Shield helps our clients significantly as it will either eliminate and/or further reduce conveyor rollers from seizing due to excessive debris or any material spillage. Our engineering and design team was committed to produce a solution to help reduce maintenance costs and downtime. The HMS and SAL significantly helps our clients save time and money on breakdowns or repair of equipment. Along with helping to reduce conveyor rollers from seizing the system will also act as a deflection shield against direct moisture pressure which can end up being costly!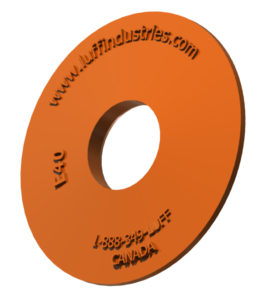 After nearly 4 decades of experience in the conveyor industry our team has evolved our technology and engineering. Solutions like HMS and Anti-Lock Shield help save our clients time and money and protect to extend equipment life. The solution is crafted using flexible, long lasting durable polymers and can easily be installed in all applications, for any industry. They can be added to any style of Luff conveyor rollers and are available in the following diameters:
4" (CEMA B, C, D, E and F class conveyor rollers)
5" (CEMA B, C, D, E and F class conveyor rollers)
6" (CEMA B, C, D, E and F class conveyor rollers)
High Moisture Seal and Anti-Lock Shields are an essential solution for industries and applications with exposure to high humidity and/or excessive moisture. They are also ideal for applications when there is potential exposure to any fine particle contamination. Our equipped HMS & Anti-Lock Shield rollers feature a grease packed cavity behind the shield that acts as a barrier for any moisture or potential fine particle contaminants that may potentially get behind the disc.
Be sure to extend and double the life of your current rollers in problematic areas with the use of Luff Industries' HMS & Anti-Lock Shields. Our team has been manufacturing and engineering the highest quality conveyor component for all industries since 1979. Our industry leading products service many industries around the globe. If you are in need of HMS & Anti-Lock Shield or any other quality conveyor part or accessory, please contact us at 1-888-349-5833 to speak with one of our experienced conveyor parts and accessory specialists. Alternatively, you can contact us through our online form on our website.